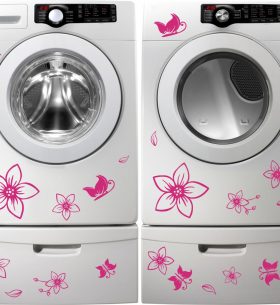 The place where you do the laundry isn't typically the first place that comes to mind when people decide to decorate their houses. Unless if it's a Laundromat we're talking about then, sure, it would help the business if owners tried to make it more pleasant looking for the customers who would wait for a long time in that small place. But if you're in your house you'd still be spending an inordinate amount of time when it comes to washing clothes, that's why wall art décor in the form of cool wall sticker designs are always handy is spicing up an otherwise functional and austere part of the house.
In this article, we'll show you the best selling stickers from StickONmania that would go very well in your laundry room. Our take on this is that since you're about to wash your dirty clothes with detergent and most detergent brands come in floral scents, we thought of adding flower-based vinyl wall décor to complete the ambiance – as if the flowers themselves are giving off the scent. Now, let's look at some of them.
Abstract Hanging Flower Sticker
This gorgeous looking sticker design adds a feminine touch to your laundry place. The design looks like an orchid that's arched in a way that it forms an elegant swirl, similar to a French curve.  The inside of a curve has flowers on it such as the kinds of flowers you'd see in an orchid stem. There are a leaf that seems to curve toward another direction too, which gives this already fine piece of art its balance and symmetry. As always, you can choose your own color for this wall sticker design. There's light pink, dark blue, plain white and many more.
Abstract Daisy Flowers Sticker
To add to the daintiness of your laundry room, try our very elegant and youthfully feminine Daisy design. The tilting flowers that seem to greet you as you see them sets that calming mood in the laundry room. This is especially helpful because, let's face it, doing the laundry is something not many people look forward to doing, but it's one of those things that need to be done anyway, no matter what. But seeing flowers always uplifts the mood for anybody so, the added wall sticker décor with a rather soothing design certainly does wonders in such a lackluster but stressful area like your laundry space.
Alright, so we may have not been entirely honest with you. This is not an image of any flower, but hey, the design looks just as appropriate for the theme. It's a curious looking design made of several circles of various sizes and they're all lumped together – like bubbles. Circles within circles, circles that seem to squeeze against each other, this is something that is a clear statement that we are somewhere that bubbles arise, very neat. And as with the other wall sticker décor designs you can customize this one according to your desired size and color.

Tags: home decor, vinyl stickers, vinyl wall decals, wall art