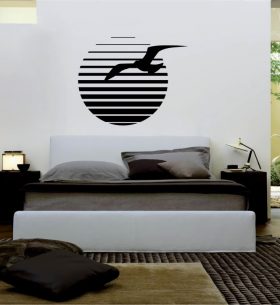 The bedroom is that sacred part of the house where we recharge ourselves to face the challenges of the day to come. This is even where are inner most secrets are hidden, our own little private area that is seemingly separate from the rest of the world. This is why the bedroom is so important in our lives. To show appreciation to the one place that gives us refuge, why not decorate it with vinyl wall art sticker décor to make it more in line with your personality and, thus, with yourself. StickONmania has thousands of designs to choose from, at least one of which you will surely find worthy for your room.
Our easy to install wall stickers can be applied to any flat, smooth surface and will last for years. All our wall décor has a life-span of about 3-5 years, and longer if it stays out of direct sunlight and is kept dry the all the time. As such, we do have tons of options for you, such as various flowers and trees and aesthetically pleasing geometric cuts. Our stickers are digitally printed high quality vinyl that is 100% made in the USA. We have very creative artists who make concepts that add to our catalog every day. So, if for some reason, out of the 3000 pre-made designs we have, there is none which you found to your liking, then, thanks to our excellent artists, the selection grows a little each day, hoping to hit a jackpot on you. And if still, you can't find something that would please you, (perhaps because you just have such a discriminating taste, we don't know. Who are we to judge?) then we'd have you know that we do custom job for our wall stickers. Just contact our team and we'll see what we can do about making whatever image that's on your mind, tangible.
Now, everybody can have their walls decorated. With how easy to apply these home bedroom decors are, there's no reason why you'd not let your creative and artsy side kick in and do something for yourself. All wall vinyl stickers take a matter of minutes to apply, depending on the size, and can be easily removed. No adhesive stains will be seen on the wall after a wall sticker is removed. These factors indicate the quality of our products and we take pride on that.  Give yourself a nice wall sticker decal as a gift and you will be surprised as to how much your room improved in terms of its atmosphere.
We also make value for your money here in StickONmania. Our stickers are one of the most affordable out there, but don't take our word for it, go ahead and check out other wall sticker decal companies and compare the prices. But, one thing we don't compromise is the quality of each sticker as well as their artistic value. Check out our website to see the best selling wall stickers and laptop decals and their prices as well as how to request for custom jobs.

Tags: home decor, vinyl stickers, vinyl wall decals, wall art